Memorial to the Armenian Genocide of 1915-1917 in Yerevan
Pictures and text by Maike Lehmann and Tsypylma Darieva from the SFB 640 at the University of Berlin
These pictures were taken on the 24th of April, 2005 in Yerevan, Armenia, the 90th anniversary of the beginning of the genocide against Armenians carried out by the Ottoman armed forces. More pictures of the event will go online here in late February, 2007. See commentary after photos.
| | |
| --- | --- |
| | . |
| | . |
Placed on a hill above Yerevan and the Ararat valley, this Genocide memorial is a rare example of an officially sanctioned memorial site that referred to national trauma, not socialist success within the Soviet Union. Built in the aftermath of an illegal demonstration on the 50th anniversary of the Armenian Genocide in April 1965 demanding the recognition of the Genocide as well as the return of the territories lost, it supposedly served as a security valve for national sentiments in this Soviet republic bordering onto the NATO-member Turkey. The memorial's composition follows the architectural language of Soviet war memorials of the 1960s, bearing no particular national symbols. The structure nevertheless supported national narratives of death and suffering.
A path leads up to a mausoleum-like structure around an eternal flame, which can be interpreted to be the symbolic grave of the 1.5 million Armenian victims of the Genocide. The twelve basalt slabs surrounding the eternal flame are said to stand in for the twelve lost provinces in Turkey. Others see in them Armenian refugees bent over a fire. Besides this 'grave' a split spire was meant to symbolize the rebirth of the Armenian nation under Soviet rule. The split, however, has been interpreted to stand for the separation of the Armenian lands in Eastern and Western Armenia (=Russian Armenia and East Anatolia respectively), while the spire itself stands for them being two integral parts of the larger nation.
The memorial complex looks onto Mount Ararat as the completing reference point of this memorial landscape. Since its opening 1967, it has been the destination of an annual procession remembering the beginning of the Armenian Genocide on April 24th. The yearly ritual to ascend the memorial hill and pay one's respects to the dead is often compared with the march of the many Armenians through the desert Deir-ez-Zhor. Thus, in this commemorative ritual past and present are mingled in a spatial performance, which can be interpreted as a form of enacted solidarity, not only with the victims, but also with one's Armenian fellow nationals.
After independence, several features have been added to the memorial site: A memorial stone to the victims of the anti-Armenian pogrom in Sumgait/Aserbaijan in February 1988. A Genocide museum erected during the war with Aserbaijan over Nogrony Karabakh and opened on the 80th anniversary of the Genocide in 1995. Before paying their respects at the eternal flame, many of the memorial's visitors now make a detour to the museum. The third feature are pine trees planted by official visitors to the Independent Republic of Armenia as a tribute to the genocide victims and the survival of the Armenian nation.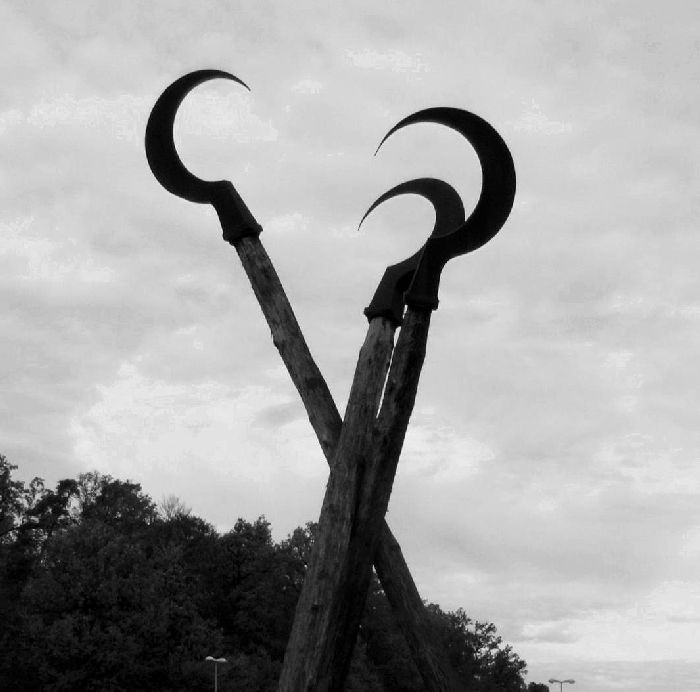 Collected Sites:
By Location
By Theme
Student Projects
Galleries
(under construction)
Contact / Impressum:
Mark R. Hatlie (ViSdM)
Im Feuerhägle 1
D-72072 Tübingen
Germany

+49-151-20495350
www.hatlie.de
sitesofmemory @ hatlie.de
Datenschutzerklärung/Haftungsausschluss
---