Military cemetery for World War One and World War Two in Sindelfingen
Pictures and text by Nina Crist
On December 20, 1953, the city council of Sindelfingen decided to ask two sculptors, Mr. Robert Schaefer, who refused, and Mr. Helmuth Uhrig, to build the monument at the Sindelfingen cemetery. At that time, Mr. Uhrig was commissioned by the Evangelischen Landeskirche Wuerttemberg to build monuments and do stain glass work at several churches in the Stuttgart area, but he accepted the assignment. Mr. Uhrig finished his work in October 1954 and it was inaugurated on November 14, 1954. The total cost of the monument was 15,105.70 DM and it was paid from the city council fund. Mrs. Proksch along with her colleagues could not answer the question why the old cemetery was chosen as the place for this monument, but the assumption was made that it must have had something to do with the existing WWI and WWII gravesites. Every year since 1952, two Sundays before the 1st Advent, Germany celebrates Volkstrauertrag. Every town has a ceremony at the local cemetery in memory of all fallen soldiers, as well as people who have been killed or went missing. The town of Sindelfingen as well has a ceremony at the cemetery with a symbolical wreath-laying in memory of all people who died or went missing during WWI and WWII.
The monument is located at the old cemetery in Sindelfingen and it is in a square of approximately 25 by 25 meters. There are six rows of gravesites in front of the monument. The four inner rows are approximately 10 m long and contain 10 gravesites each. The two outer rows are approximately 15 m long and contain 13 gravesites each. Between the second and third row as well as the fourth and sixth row there is a narrow pathway leading the way to the monument. All gravesites have their own little cross headstone, which bears names of people, women, men, and children who died during the Allied air attacks in 1944. While looking at all headstones, I realized that entire families, mother, father, children, in-laws, as well as brothers and sisters were killed and buried in the same grave. From left to right, the monument is along side the cemetery wall about 20 meters in length and consists of 18 stone columns, each about 1,80 m tall. Each column bears the names of all men and women of Sindelfingen, separated by the year, who died or went missing during WWII. Moreover, the last column, on the very right side, bears an inscription that recalls all the people who were forced to work in a Sindelfingen labor camp and died without anybody ever knowing or caring about their name. The inscription refers to God's book of lambs that bears all names of all people with their faults and sorrows.
To the left, there is a large monument, also sculpted by Helmuth Uhrig, that is supposed to refer to the Easter message which can be found in John 11, 25 and 26 and reads as follows: Jesus said to her, "I am the resurrection and the life. He who believes in me will live, even though he dies; and whoever lives and believes in me will never die. Do you believe this?" (http://www.biblegateway.com/passage/?search=John+11:25-26) Unfortunately, Mrs. Proksch didn't have much more information about this and referred to her archives. However, it is not a WWII memorial and therefore, I didn't search the archives for more information. It is about 2 m tall and about 1.80 m wide.
| | |
| --- | --- |
| | . |
| | . |
| | . |
| | . |
| | . |
| | . |
| | . |
| | . |
| | . |
| | . |
| | . |
| | . |
| | . |
| | . |
| | . |
| | . |
| | . |
| | . |
| | . |
| | . |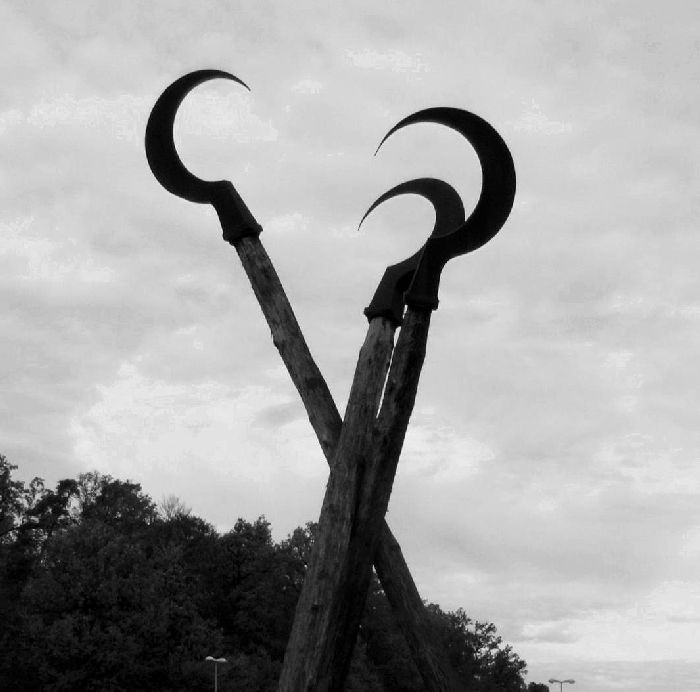 Collected Sites:
By Location
By Theme
Student Projects
Galleries
(under construction)
Contact / Impressum:
Mark R. Hatlie (ViSdM)
Im Feuerhägle 1
D-72072 Tübingen
Germany

+49-151-20495350
www.hatlie.de
sitesofmemory @ hatlie.de
Datenschutzerklärung/Haftungsausschluss
---