Memorial to Latvian Riflemen in Riga
Pictures and text by Mark R. Hatlie
These pictures were taken in Riga during the first week of September, 2007 at different times of day. This memorial is located in very central place, right on Ratu square, in front of the Occupation Museum, facing the Daugava river. There is a bus stop right by it. It was built here in the early 1970s to commemorate the Latvian Riflemen who had been so instrumental in the Russian Civil War.
There is a joke that people in Riga used to tell about this memorial: They said that the three men, looking so stalwartly out into the distance, were actually waiting for the fourth man to arrive with the bottle!
The wording on the base of the memorial was added in 2002. It reads, "For the Latvian Riflemen / 1915-1920". That wording includes the Latvian rifle units during the time they were fighting for the Tsar against Germany near Riga (World War One) as well as the units during the civil war. The red stars on the soldiers' hats narrow the soldiers depicted down to the pro-communist Civil War-era riflemen, while the wording expands the memorial to be more inclusive. Presumably, those Latvian units that fought to defend the new Latvian state against Germans and Russians - at this very spot in the fall of 1919 - are now also included in the memorial's subjects. Previously, the wording had been on the ground in front of the memorial and had red, "For the Latvian Red Riflemen" in Latvian and Russian.
| | |
| --- | --- |
| | . |
| | . |
| | . |
| | . |
| | . |
| | . |
| | . |
| | . |
| | . |
| | . |
| | . |
| | . |
| | . |
| | . |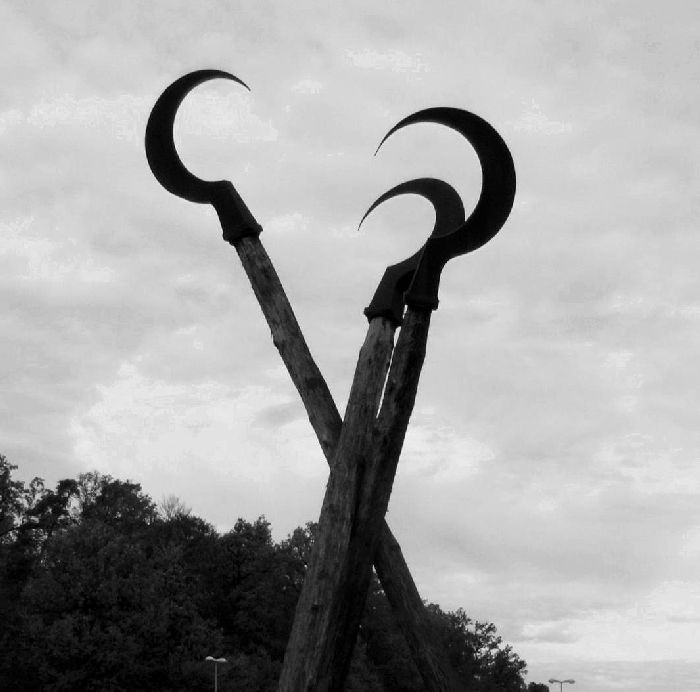 Collected Sites:
By Location
By Theme
Student Projects
Galleries
(under construction)
Contact / Impressum:
Mark R. Hatlie (ViSdM)
Im Feuerhägle 1
D-72072 Tübingen
Germany

+49-151-20495350
www.hatlie.de
sitesofmemory @ hatlie.de
Datenschutzerklärung/Haftungsausschluss
---