Memorial to forced labor in Nuremberg, Germany
Pictures and text by Britta Gainey
The memorial "Transit" was built to commemorate the hardship of forced laborers during the Second World War. It is located at a very busy traffic-point in Nuremberg, Germany, called the "Plärrer". The location was chosen for this memorial because the bus shelter at the Plärrer used to be a favored meeting place for forced laborers during WWII. The bus shelter itself was demolished after the war.
With this memorial, the City of Nuremberg takes responsibility for its involvement in the suffering of forced laborers during the 2nd World War. The memorial was built and inaugurated 15 October 2007.
I took the photos in the early afternoon of the 6th of September 2008.
| | |
| --- | --- |
| | Walking towards the Plärrer coming from the City Center, one can get a first glimpse on the memorial. |
| | Same Picture as above, only that the memorial is marked with an arrow.. |
| | Approaching the memorial. Behind the memorial one finds the platforms for the streetcars. The building to the left of the memorial is one the many entrances to the subway. |
| | The part of the monument that is visible over ground. It is "hidden" from the streetcar platform by bushes. |
| | The memorial is placed on a former light well. Behind the memorial one can see the other light wells that are still in use. |
| | Looking back over the memorial to the street. |
| | A detail of the memorial: the pattern consists of 3000 little metal figurines that symbolize the forced laborers. |
| | . |
| | . |
| | . |
| | A plaque is placed near the sculpture (supposedly there are two more plaques, but I was not able to find them). |
| | The plaque is dirty and surrounded by waste. |
| | The plaque shows the name of the memorial: "Transit". The word "Forced Labor" is imprinted on it in 14 languages, commemorating the nations that forced laborers were originally from. The words are centered around the word "Ort der Erinnerung" ("Place of Commemoration"). Under the subtitle "1939-1945 wurden Menschen ihrer Würde beraubt" ("1939-1945 human beings were robbed of their dignity"), one can read the following inscription: "Nürnberg, die Stadt des Friedens und der Menschenrechte, gedenkt des Leidens der ausländischen Arbeitskräfte, die während des Zweiten Weltkriegs hier in allen Bereichen der Wirtschaft eingesetzt waren, und bekennt sich zu dem Unrecht, das ihnen angetan wurde". ("Nuremberg, the city of peace and human rights, commemorates the suffering of the foreign laborers that were deployed here in all areas of economy during the Second World War, and admits to the injustice that was forced upon them."). |
| | Walking into the subway station, one can see the underground part of the memorial placed above the major staircase. |
| | This underground part of the memorial can be easily overlooked, unless someone points to it. |
| | The memorial is being placed in line with the still working light wells. |
| | Looking up from the bottom of the staircase, one has a slightly better view to the underground part of the memorial. |
| | A close-up of the underground part shows that it consists of the same pattern of metal figurines than the over ground part and that it is placed in a former light well. Here, the figurines are placed upside down, with their heads hanging down. |
| | . |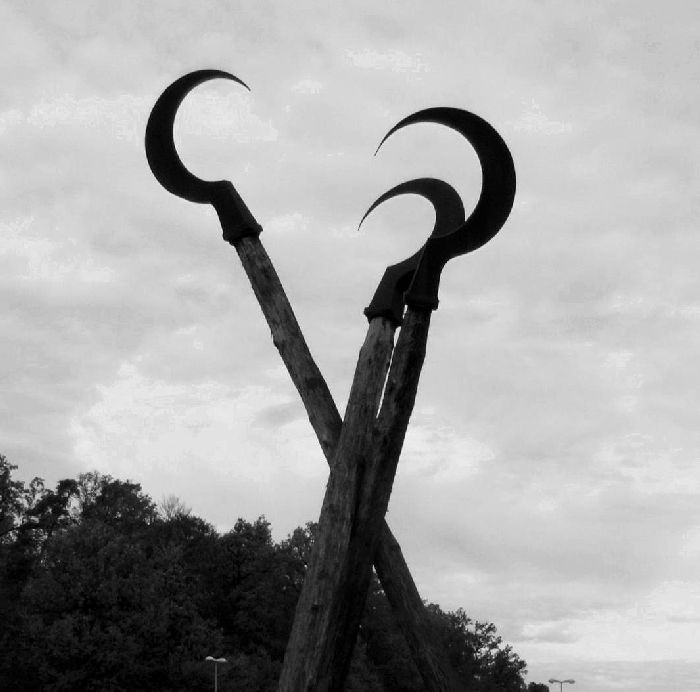 Collected Sites:
By Location
By Theme
Student Projects
Galleries
(under construction)
Contact / Impressum:
Mark R. Hatlie (ViSdM)
Im Feuerhägle 1
D-72072 Tübingen
Germany

+49-151-20495350
www.hatlie.de
sitesofmemory @ hatlie.de
Datenschutzerklärung/Haftungsausschluss
---