Vietnam Veterans Memorial on the Mall in Washington, D.C.
Pictures and text by Mark R. Hatlie
These pictures were taken on 19 June, 2006 on the Mall in Washington, D.C. Since my father fought in Vietnam and the images of people visiting this memorial were so familiar to me, and often so touching, I thought I would be moved by this memorial. The mood did not seem somber, however. For one thing, I was angry about having to use my back-up camera and not being able to find replacement memory cards for my first one- which made me forget to visit the "Women in Vietnam" memorial. For another, the large crowds of people dressed like and acting like tourists made it seem almost festive. I observed people performing the well-known rituals and overheard a women pointing out the name of her dead cousin. Still, it left me cold.
| | |
| --- | --- |
| | This is the starting point. The statue of the soldiers, which was added to the memorial at the request of veterans' organizations so as not to make the memorial so somber, is visible on the right. The "Wall" is visible in the background. |
| | The three male soldiers show racial diversity. |
| | . |
| | The wall starts out very low. Here, someone has placed the flag of the state of Oregon and a small note. |
| | This is a common ritual at this site. People find a particular name and put paper over it. By rubbing over the paper with a pencil, the name appears on the paper. I saw several people doing this, including at least one who had come unprepared and was looking to borrow a sheet of paper. |
| | looking for names |
| | . |
| | . |
| | . |
| | ascending back up |
| | . |
| | This photo shows almost the whole wall. It gives a good impression of the memorial. The top of the wall is at ground level, while the walkway sinks into the earth and rises back up. The names of the dead are below ground. |
| | Here is the view looking back toward the statues from the end of the wall. I never realized how wooded the Washington Mall is until I visited it. |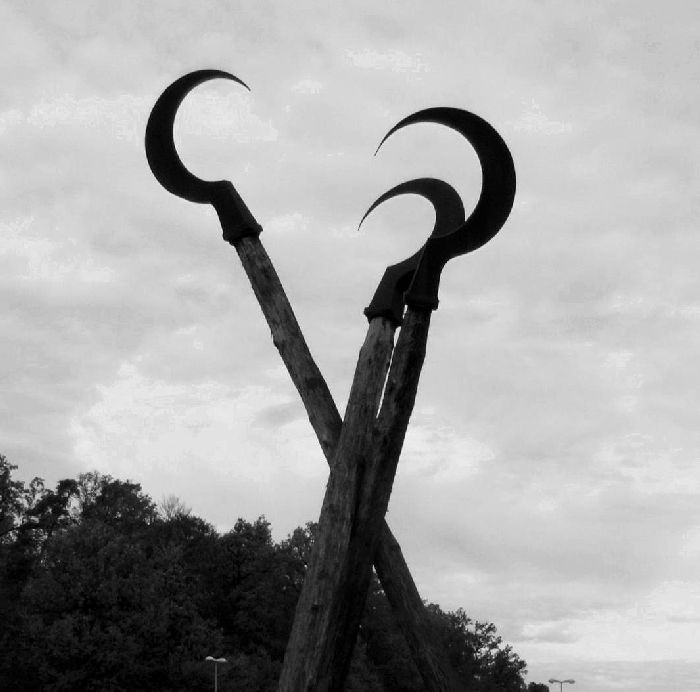 Collected Sites:
By Location
By Theme
Student Projects
Galleries
(under construction)
Contact / Impressum:
Mark R. Hatlie (ViSdM)
Im Feuerhägle 1
D-72072 Tübingen
Germany

+49-151-20495350
www.hatlie.de
sitesofmemory @ hatlie.de
Datenschutzerklärung/Haftungsausschluss
---